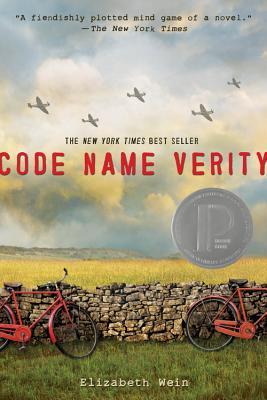 Title:
Code Name Verity
Series:
Code Name Verity #1
Author:
Elizabeth Wein
Publisher:
Disney-Hyperion
Published Date:
May 7th 2013
Genre:
Historical Fiction, YA
Page Count:
339
Format:
Kindle
My Rating:
★ ★ ★ ★ ★
Goodreads Summary:
Oct. 11th, 1943-A British spy plane crashes in Nazi-occupied France. Its pilot and passenger are best friends. One of the girls has a chance at survival. The other has lost the game before it's barely begun.
When "Verity" is arrested by the Gestapo, she's sure she doesn't stand a chance. As a secret agent captured in enemy territory, she's living a spy's worst nightmare. Her Nazi interrogators give her a simple choice: reveal her mission or face a grisly execution.
As she intricately weaves her confession, Verity uncovers her past, how she became friends with the pilot Maddie, and why she left Maddie in the wrecked fuselage of their plane. On each new scrap of paper, Verity battles for her life, confronting her views on courage, failure and her desperate hope to make it home. But will trading her secrets be enough to save her from the enemy?
-------------------------------------------------------------------------
My Review:

"I don't recognize any of my emotions any more. There's no such thing as plain joy or grief. It's horror and relief and panic and gratitude all jumbled together."
This book was far more than I ever thought it would be.
It covered so many things that happened in the war from weapons, torture, piloting, planes, spies and coding. All done by women! Not only were the women in this story doing all of these things they were also still acting like women and dealing with every day problems as well.
This book is also about friendships and how so many were made due to the war that would have never happened without it. It showed that even if they were capable of doing certain things that they wouldn't be the first choice because they were women and if they ever did anything wrong that it was far more like for them to be punished.
Julie and Maddie characters are now some of my favorite ever. The friendship these two have is the strongest one I have seen so far in a book and because of that fact it makes the decision Maddie eventually has to make to save Julie even more heartbreaking.
While I'm not going to say much about the plot of the story because I don't want to ruin it for anyone. It was absolutely amazing, while it was slightly confusing at times due to multiple names for characters it was still very enjoyable and never took away any of my love for this story.
I do think I will be waiting awhile to read the next book though due to the heartbreak that this book caused me.
"KISS ME, HARDY! Kiss me, QUICK!"
Side note: Why is this book considered YA the characters aren't really teenagers from what I could tell and if they were they were older teenagers, shouldn't this be considered more New Adult (I know it doesn't contain anything that most new adults do, but I thought new adult was considered by age mostly)?