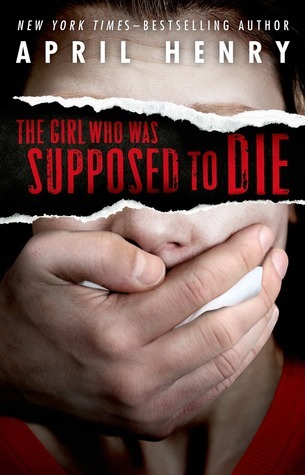 Title:
The Girl Who Was Supposed To Die
Author:
April Henry
Publisher:
Henry Holt and Co.
Published Date:
June 11th 2013
Genre:
YA, Mystery
Page Count:
213
Format:
Hardcover

My Rating:
★ ★ ★.5
Goodreads Summary:
"Take her out back and finish her off."

She doesn't know who she is. She doesn't know where she is, or why. All she knows when she comes to in a ransacked cabin is that there are two men arguing over whether or not to kill her.

And that she must run.

In her riveting style, April Henry crafts a nail-biting thriller involving murder, identity theft, and biological warfare. Follow Cady and Ty (her accidental savior turned companion), as they race against the clock to stay alive.
---------------------------------------------------------------------
My Review:
"It's like we stepped into some TV show about cops or spies. Only we're not cops or spies. We're teenagers."

Last year I read Henry's The Night She Disappeared and absolutely loved it, it was everything I look for in a YA thriller. So when I saw

The Girl Who Was Supposed to die I was pretty excited about it. Sadly I was somewhat disappointed with it. It was still a very nice short

page turning read.

The book starts out with Cady waking up in a cabin with no idea who she is, where she is, or why she is even there. From there we start on the

journey of trying to figure out what happened to her, and why these people think she knows information.

Along the way we meet Ty who helps her, and keeps her safe from the bad guys.

Henry made Cady and Ty both very realistic and enjoyable characters and I was rooting for them the whole way through. I also really liked the fact that

there was no romantic feelings between the two and the whole focus for once was on making sure Cady's family was safe.

I think this book would make a very nice action filled movie and I hope that maybe it will get made in to one someday.