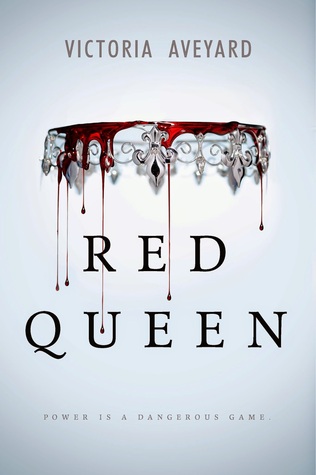 Title:
Red Queen
Series:
Red Queen #1
Author:
Victoria Aveyard
Publisher:
HarperTeen
Published Date:
February 10th 2015
Genre:
YA, Dystopia, Fantasy
Page Count:
383
Format:
Hardcover

My Rating: ★ ★ ★ ★.5
Goodreads Summary:
This is a world divided by blood - red or silver.

The Reds are commoners, ruled by a Silver elite in possession of god-like superpowers. And to Mare Barrow, a seventeen-year-old Red girl from the poverty-stricken Stilts, it seems like nothing will ever change.

That is, until she finds herself working in the Silver Palace. Here, surrounded by the people she hates the most, Mare discovers that, despite her red blood, she possesses a deadly power of her own. One that threatens to destroy the balance of power.

Fearful of Mare's potential, the Silvers hide her in plain view, declaring her a long-lost Silver princess, now engaged to a Silver prince. Despite knowing that one misstep would mean her death, Mare works silently to help the Red Guard, a militant resistance group, and bring down the Silver regime.

But this is a world of betrayal and lies, and Mare has entered a dangerous dance - Reds against Silvers, prince against prince, and Mare against her own heart...
---------------------------------------------------------------------
My Review:
"But I'm not a princess. I'm not the girl who gets saved."


Mare is the heroin who is slightly naive but always keeps the bigger picture of what she needs to do in her mind at all times. She knows that she won't
become queen and she doesn't want to be. All she wants to do is to save her family and her people from being treated like dirt by the Silvers. Sadly
she doesn't really know how to do this since she is a Red and knows little about how to actually manipulate the silvers, and how to get around there powers.

Now onto the Princes Cal and Maven. I know we were suppose to have a love triangle with them but I never really fell for either of them. I knew we
shouldn't trust them and that at least one of them was using her if not both. I was surprised though by the one who betrayed and used her the most.


While I do see how this book had some similarities to others, it was still very enjoyable and had me on the edge of my seat.