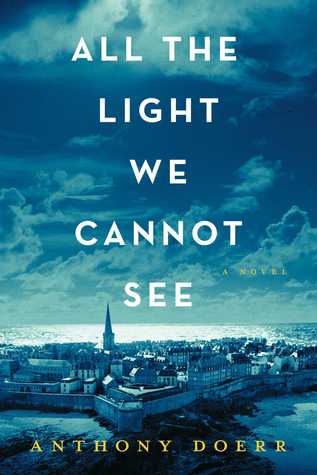 Title:
All the Light We Cannot See

Author:
Anthony Doerr

Publisher:
Scribner

Published Date:
May 6th 2014

Genre:
Historical Fiction, Adult Fiction

Page Count:
448

Format:
Kindle


My Rating: ★ ★ ★ ★ .5

Goodreads Summary:
Marie-Laure lives with her father in Paris near the Museum of Natural History, where he works as the master of its thousands of locks. When she is six, Marie-Laure goes blind and her father builds a perfect miniature of their neighborhood so she can memorize it by touch and navigate her way home. When Marie-Laure is twelve, the Nazis occupy Paris, and father and daughter flee to the walled citadel of Saint-Malo, where Marie-Laure's reclusive great-uncle lives in a tall house by the sea. With them they carry what might be the museum's most valuable and dangerous jewel.

In a mining town in Germany, the orphan Werner grows up with his younger sister, enchanted by a crude radio they find. Werner becomes an expert at building and fixing these crucial new instruments, a talent that wins him a place at a brutal academy for Hitler Youth, then a special assignment to track the resistance. More and more aware of the human cost of his intelligence, Werner travels through the heart of the war and, finally, into Saint-Malo, where his story and Marie-Laure's converge.
--------------------------------------------------------------------------
My Review:
I absolutely loved this novel. While it wasn't exactly what I was expecting after having read the synopsis, it was still incredible.
I loved seeing the war from Marie-Laure LeBlanc perspective and how she lived during it. How she had to learn things differently and count every step so she wouldn't get lost, and while she was scared at time she did get over it and went out and did what she had to do anyway to help the war cause. I absolutely loved her relationship with her Uncle and how she got him somewhat out of his fears and got him to live life again.
I had a little bit of a harder time enjoying Werner Pfennig perspective though. While it was enjoyable I just kept hoping he would stand up and act differently in certain situations. Even though I know that surely would have caused him to get beaten up as well.
Now while I did enjoy this book I kept feeling like certain parts weren't needed (to many time switches causing confusion). I was slightly disappointed as well that Marie-Laure and Werner didn't get more time together.
But overall I found the book to possible be becoming one of my favorites.