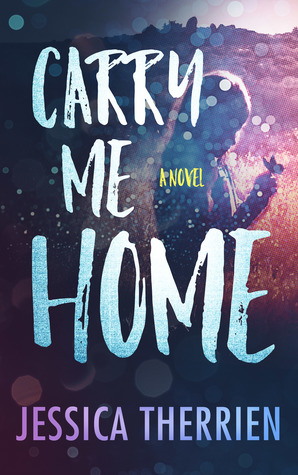 Title:
Carry Me Home
Author:
Jessica Therrien
Publisher:
Acorn Publishing
Published Date:
September 26th, 2017
Genre:
YA, Realistic Fiction
Page Count:
356
Format:
Kindle
My Rating:
★ ★ ★
Goodreads Summary:
Lucy and Ruth are country girls from a broken home. When they move to the city with their mother, leaving behind their family ranch and dead-beat father, Lucy unravels.

They run to their grandparents' place, a trailer park mobile home in the barrio of San Jose. Lucy's barrio friends have changed since her last visit. They've joined a gang called VC. They teach her to fight, to shank, to beat a person unconscious and play with guns. When things get too heavy, and lives are at stake, the three girls head for LA seeking a better life.

But trouble always follows Lucy. She befriends the wrong people, members of another gang, and every bad choice she makes drags the family into her dangerous world.

Told from three points of view, the story follows Lucy down the rabbit hole, along with her mother and sister as they sacrifice dreams and happiness, friendships and futures. Love is waiting for all of them in LA, but pursuing a life without Lucy could mean losing her forever.

Ultimately it's their bond with each other that holds them together, in a true test of love, loss and survival.
---------------------------------------------------------------------
My Review:
Thank you to Expresso book tours for an e-arc of this book in exchange for my honest review.
Warning this book contains violence, rape, and drug use.
This was a hard book for me to read and I wasn't expecting that. The struggles that the characters faced were very real and extremely realistically written. Lucy and the Mom's point of view were a real insight into what happens when you struggle with addiction and just want acceptance from those you love.
"My Mantra: keep everyone happy, all the time. Everyone, except me."
The mom we see dealing with an unhealthy marriage and trying to reinvent herself after realizing it just wasn't going to work. This causes her to leave and start a new life with her daughters Ruth and Lucy. It's not an easy road for any of them after that, and it leads to some major consequences for all of them.
"We have no money. No place to go. Worry and dread follow me to work, but I'm always my strongest self when life forces me to be. We'll make it. We have to.
Lucy, we see her trying to find her place in the world and making choices that weren't the smartest that lead her down a path towards self-destruction. Her story is one that is one that a lot of young people fall into when parents divorce, and are forced into a new environment. Lucy is the main focus for most of the book and because of that it's really hard to like her because of the decisions she made, but by the end, you'll truly care for her and want the best for her. Reading parts of her point-of-view honestly made me sick to my stomach and I had to take a breather a few times and collect myself because of how real it all felt.
"We're always hardest on the ones we love most. We know they'll stand by us through the worst of ourselves."
Ruth's point-of-view was my favorite to read, it was a nice break as she worked extremely hard to get out of the situation she was in and to make a better future for herself. But we also see her deal with the consequences of her mom's and sisters actions and how the effect her life as well. It was bittersweet at times to see how hard so was working to get out of the situation she was in just to be drawn back in because she was needed. I don't fault her for going back and helping I'm actually really proud of her for doing that because it wasn't an easy choice and it meant putting her own life on hold for just the possibility that the other person was going to clean up their act.
"I am her anchor. Her mule to haul the burden. i am her confessional, the forgiver of sins. She has groomed me to love her, and I do, wholeheartedly, unconditionally. Because that's how she loves me."
This book really highlights how easy it is to get yourself into these types of lifestyle when you're not really sure what it is you want. Or when you don't have proper supervision on your children and they have too much free time because you're just trying to make ends meet. Its a struggle that is very real and one that so many deal with.
"When she told me her story, I didn't want to believe her. It seemed made up, but all the pieces were there, sharp and jagged like shards of mirrored glass. All I had to was fit them together."
Carry Me Home won't be for everyone and it's not the easiest read, but I do think it is an important one.
a Rafflecopter giveaway
Purchase:
AUTHOR BIO:
Jessica Therrien is the author of the young adult series Children of the Gods. Book one in the series, Oppression, became a Barnes & Noble best-seller shortly after its release. Her trilogy has been translated and sold through major publishers around the world, such as Editions AdA (Canada), EditionsMilan (France), and SharpPoint Press (China).

Aside from her Children of the Gods series, Jessica is the author of a kid's picture book called, The Loneliest Whale. Her award-winning stories can also be found in a published anthology of flash fiction.

Jessica currently lives in Irvine with her husband and two young sons. She is working on an a YA suspense thriller series and a middle grade fantasy series.
Author links: